Before Greta got shit-canned at MSNBC I noticed this little doozy
Uh-oh, someone is going to sic Xenu on me. https://t.co/KUNQBH7mvM

— Erick Erickson (@EWErickson) June 21, 2017
Conservative commentator Erick Erickson mocked his former Fox News colleague Greta Van Susteren, a Scientologist, after she criticized him for a comment he made about self-identified feminists.
Wednesday on Twitter, Erickson responded to feminist author Jill Filipovic, who said Republican Karen Handel's win the previous night in the heated House race in Georgia amounted to "vindictive voters willing to elect hateful bigots."
"Another reminder that feminists tend to be angry women jealous at other women's successes," Erickson wrote in response to Filipovic.
Van Susteren, who now has a show at MSNBC, shared Erickson's tweet and said, "What is wrong with Erick Erickson?! This is not his first awful comment about women. (At Fox I did segment about his boorish behavior.)"
In a separate reply, Erickson mocked Van Susteren as a well-known member of the Church of Scientology.
"Uh-oh, someone is going to sic Xenu on me," he said in a tweet, referring to an extraterrestrial figure found in Scientology teachings.
The Washington Examiner has requested comment from Van Susteren.
http://www.washingtonexaminer.com/erick-erickson-mocks-greta-van-susterens-scientology-faith/article/2626656
Of course Mr Scientology Bellend has to make an appearance 
then this happened….
I am out at MSNBC –

— Greta Van Susteren (@greta) June 29, 2017
… which can best be summed up by this
want to know what fuzzy scumbag clams she and her husband are?
full story here
To say that Matt Lauer jumped at the chance to don a wig and play Tom Cruise in a recreation of his now-infamous June 2005 interview with the actor would be an exaggeration.But on the Thursday episode of Watch What Happens Live with Andy Cohen, the Today show host didn't exactly hesitate when Cohen suggested the pair role play and relive that tense, televised interaction as part of a "Clubhouse Playhouse" segment on the late night show.
"Can I just say before we do this, I like Tom Cruise," Lauer said to preface the pair's reenactment. "We have a good relationship; we have a good friendship. It was just one little moment." With that said, the morning show host pulled a brunette wig onto his head to play Cruise.
Lauer read from a script with gusto as he embodied Cruise's distinct mannerisms, leaning forward to emphasize his points as he chatted with Cohen-as-Lauer.
"I've never agreed to psychiatry, ever," Lauer said in Cruise's hushed tone. "Do you know what Adderrall is? Do you know what Ritalin – do you know now Ritalin is a street drug? Do you understand that?"
And so the intense conversation went on, with faux Cruise complimenting faux Lauer on his interviewing skills at one point.
"You are extremely handsome!" Lauer-as-Cruise said, later adding, "You are a great interviewer. You are a fantastic interviewer."
In 2005, Lauer's interview with the Hollywood actor quickly went south after the TV host steered the conversation from more softball questions about his then-fiancée Katie Holmes to more serious topics like Scientology and fame.
At one point, Cruise insisted that he wanted to keep the couple's relationship out of the spotlight. "I still feel that I will talk about what I want to talk about, and I will not talk about what I don't want to talk about," Cruise said, to which a determined Lauer asked him point blank whether his engagement to Katie Holmes was a publicity stunt for War of the Worlds.
"There's always cynics, always has been, always will be. I have never worried, Matt, about what other people think and what other people say. You can't," the actor responded, getting testy. Later, asked about Scientology, Cruise became curt.
"It's something you don't understand. You can be a Christian and be a Scientologist," he said. "It is a religion in that it deals with the spirit, you as a spiritual being."
On Thursday, Lauer acknowledged that Cruise didn't look the best after their headline-making interview.
"I think he got such a bum rap for that. And to be honest, he was a real mensch after that. He came and he apologized, we had a great time," Lauer said.
http://www.rollingstone.com/tv/news/matt-lauer-plays-tom-cruise-recreates-infamous-interview-w489484
Tom Cruise is not impressed with Matt Lauer and how he recently made fun of him on national television. The television host apparently poked fun at the Hollywood actor when he recreated their infamous 2005 interview during his appearance on 'Watch What Happens Live' with Andy Cohen.
During their 2005 interview, Matt Lauer grilled Tom Cruise on a number of different topics including Scientology, psychiatry and prescription medication. The interview was one of the most bizarre moments of Tom Cruise's career after Matt pressed him to answer hard-hitting questions. At one point, Tom criticized actress Brooke Shields for taking anti-depressants after she gave birth to her first child and even called Matt Lauer "glib."
Before putting on a wig, Matt told Andy, "Can I just say before we do this, I like Tom Cruise. We have a good relationship, we have a good friendship. It was just one little moment." He then went on to make fun of Tom by copying his mannerisms and emphasizing the points he made about psychiatry with gusto.
Back in 2015, Matt Lauer admitted that his sit down with Tom Cruise was also one of the most awkward interviews of his television career. He also called it one of the most unforgettable moments that later became a part of pop culture.
But for Tom Cruise, there's a good chance that he doesn't see it this way. Back in 2005, he was still considered one of the most bankable stars in Hollywood. He was also an A-list name and was someone who wanted to be taken seriously by the entertainment industry. These days, it's a different story. After several bizarre interviews like the one he had with Matt Lauer and his "couch jumping" incident on Oprah, audiences stopped buying his tickets to his movies at the box office. In fact, he hasn't had a movie hit in years.
To make matters worse, his very public divorce with Katie Holmes hasn't helped his career, either. A lot of fans have also noticed that Tom Cruise doesn't grant as many interviews as he used to. And having Matt Lauer make fun of him sure doesn't make things any better for him. Their interview wasn't one of his best television moments and Matt bringing it up again sure isn't helping Tom, either.
So far Tom Cruise himself has not made any comments about Matt Lauer mocking him on television. In the meantime, don't forget to check back with CDL for all the latest news and updates on Tom Cruise right here!
http://www.celebdirtylaundry.com/2017/tom-cruise-not-impressed-mocked-by-matt-lauer-in-new-interview/
Spoiler alert: Tom Cruise may want to buy some ear muffs.
Earnhardt, then 17, met Cruise when he made a cameo appearance in Mooresville, N.C., at the Earnhardt garage known as the Deerhead Shop because of the mounted deer on the wall.
"This is all hearsay because nobody was in the room except dad, and I guess the director and Cruise," Earnhardt said. "So Tom Cruise comes over to the Deerhead shop and we're excited. We're going to meet Tom Cruise. Me and Kelly [his sister] come in, we're all giddy.
"He comes in and he's about a foot shorter than I thought he'd be and he has pimples all over his face. They go into dad's office and they come out 30 minutes later and I guess they're picking daddy's brain. The rumor was they offered dad the role of Rowdy Burns, but dad turned it down because he didn't want to play the bad guy."
Pardon the interruption, Dale, but a few things:
Tom Cruise has PIMPLES?!!
Your daddy didn't want to be the BAD GUY? For the Love of God, his nickname was "The Intimidator."
Anyway, we digress.
Michael Rooker ended up playing the role of Burns, the bad dude racer and Winston Cup Champion who becomes the adversary to Cole Trickle (Cruise's character). "Ok, I'm going to pull this rookie's chain," he says at one point in the movie.
Junior's review? Check it out.
"I thought the movie was fun," Earnhardt said. "Great. I was a big Robert Duvall fan because I loved the series Lonesome Dove. I thought he was great in anything…I thought it was a fun movie."
http://www.orlandosentinel.com/sports/george-diaz-en-fuego/os-dale-earnhardt-jr-tom-cruise-20170630-story.html
I wish Carrey's lawyer realised that all he'd have to do is get that scientology husband for hire on the stand and grill him to see the whole thing would collapse (bone up on the questions to ask by talking to a few well-informed ex scientologists first… but obviously not Marty, lol)
EXCLUSIVE: Jim Carrey drops his attempt to force his late girlfriend's mother to pay him $372,000 and will attempt to settle – after judge denied motion to remove claims he transmitted STDs in her wrongful death lawsuit
Jim Carrey has withdrawn his motion and will try to settle the case with the mother of his late ex-girlfriend Cathriona White before the trial begins
Court documents obtained exclusively by DailyMail.com show the actor withdrew his motion with prejudice, meaning he cannot refile at a later date 
He had asked Brigid Sweetman, who filed the wrongful death lawsuit against him, to pay an undertaking he could recover if he prevailed in the case
Sweetman has blamed the comedian for her daughter's suicide claiming he gave her daughter three STDs and prescription drugs that contributed to her death
Earlier this month, a judge denied Carrey's attempt to remove allegations that he transmitted STDs to Cathriona, saying his privacy concerns are not a top priority
Jim Carrey has dropped his attempt to force the mother of his late ex-girlfriend to pay him an undertaking of $372,000 in the suit against him, after she claimed indigency and illness.
The comedian, who has been blamed for the suicide of Cathriona White, has agreed to meet in-person with her mother Brigid Sweetman and try to settle the case before it goes to trial.
Court documents obtained exclusively by DailyMail.com show the actor withdrew his motion with prejudice, meaning he cannot refile at a later date.
Sweetman filed a wrongful death lawsuit against the Carrey in October after her daughter took her own life in 2015. White's estranged husband, Mark Burton, also filed a suit against the Dumb and Dumber actor.
Jim Carrey has withdrawn the motion asking the mother of his late ex-girlfriend Cathriona White(pictured) to pay him $372,000 and will instead try to settle the wrongful death lawsuit before the trial
Sweetman claimed Carrey gave her daughter three STDs and provided her with prescription drugs that ultimately contributed to her death.
White, an Irish native who began dating the star in 2012, had confronted him about the venereal diseases but Carrey shamed her by calling her a 'w***e' and threatened her with the help of 'fixers' who worked to silence her.
According to the documents, the 30-year-old contracted both herpes and chlamydia back in 2013. Carrey reportedly dismissed claims that he transmitted them to her and said she had contracted them from someone else.
Following the confrontation, the pair broke up, with Carrey sending her a text message saying 'You have become too much drama.'
White was found dead of a prescription drug overdose in her California residence September 2015.
In a note to Carrey, White described herself as 'damaged goods' and claimed he called her a 'w***e' and an 'opportunist' when she confronted him.
White's motherBrigid Sweetman (pictured left) and estranged husband Mark Burton (right) filed a wrongful death lawsuit against Carrey in October after White committed suicide in 2015
Under California law, willfully exposing someone to a STD can constitute a cause of legal action for intentional infliction of emotional distress, a factor which can be relevant in determining a cause of suicide.
Sweetman filed the lawsuit demanding general damages, economic damages, funeral and burial expenses, punitive damages and attorney fees.
She said the 'fixers' worked and her daughter stayed silent, ultimately causing her to struggle emotionally before her overdose on Ambien, Percocet and Propranolol, which she accuses Carrey of providing her with.
The actor, who has opened up about his struggles with depression in the past, allegedly obtained the prescriptions under the name Arthur King.
But Carrey claims White's mother and her estranged husband were not close to her at the time of her death and are trying to capitalize on the tragedy.
He argued Cathriona left her home at 15-years-old due to her broken relationship with her mom, and days before her suicide she cut off all contract due to a demoralizing phone call they had.
Carrey headed to court firing back at the lawsuit and demanding the court order her to pay $372,000 to even continue on with her legal battle.
Text messages show Cathriona had discussed concerns about contracting STDs from the actor, but Carrey appears to dismiss the claims that she got them from him and says she may have contracted the diseases from someone else
The actor explained Sweetman is a resident of the United States and there is a 'reasonable possibility' he will defeat the specious claims that she alleges in her lawsuit.
He call the suit nothing more than a shakedown and claimed there is no factual support for any of the allegations.
Carrey demanded she pay the six-figure undertaking – the full amount he could be entitled to recover against her if he prevailed in the case – and says the entire lawsuit should be stayed until she pays the money to the court.
Due to the international nature of this action, Carrey believed the lawsuit will cost him a ton in legal fees. The suit requires extensive discovery in London, Ireland, elsewhere in Europe, as well as the United States.
He will have to take at least 20 depositions across the globe.
Cathriona White was found dead of a prescription drug overdose in her California residence September 2015
White wrote a letter to Carrey claiming he called her a 'whore' and an 'opportunist' when she confronted him about the STDs
The anticipated discovery expenses include $10,000 for service of process and subpoenas, more than $85,000 for depositions costs, $35,000 for travel expenditures, $25,000 for witness transportation and per day, $27,000 for pretrial filings and preparation of demonstratives for use at trial for a grand total of $372,200.
Last month, the judge came back and handed Sweetman a small victory by shutting down Carrey's attempt to strike all allegations he gave Cathriona STDs.
The court order stated the allegations are wholly relevant and inextricably a key factual basis for the causes of action in the lawsuit and denied his motion to remove them from the case.
Under California law, willfully exposing someone to a STD can constitute a cause of legal action for intentional infliction of emotional distress, a factor which can be relevant in determining a cause of suicide
The judge note that while he is aware Carrey is a celebrity and there are privacy concerns, those privacy concerns do not override the right of Sweetman to include those allegations in her lawsuit.
After withdrawing his motion, Carrey also requested the hearing set for June 28 to be vacated, since he has agreed to meet with Sweetman to attempt to mediate the case.
The judge set the trial date for April 26, 2018.
Read more: http://www.dailymail.co.uk/news/article-4643870/Jim-Carrey-settle-wrongful-death-suit-trial.html#ixzz4lMwuatNa
"Gay? Moi?…. how very dare you"!!!
#JohnTravolta #BummingMan
#NotThatTheresAnythingWrongWithThat
READY FOR THE BIG RIDE, BABY
'Face/Off' At 20: All Hail the Most Gleefully Batsh*t Action Movie Ever
On June 27, 1997, a great action movie was born. Twenty years later, we revisit John Woo's outrageously awesome action-opera, starring a never-better Nic Cage and John Travolta.
In certain relationships, it can take months—nay, years—for one side to reveal his/her crazy. It takes Face/Off a shade over two minutes.The hazy, washed-out palette, porn 'stache on Nicolas Cage's face, and smile on John Travolta's inform us that we are in flashback. We appear to be in Griffith Park, which strikes us as odd given that Cage has assembled a sniper rifle on a grassy knoll in full view of parents, children, and semi-employed models walking their chorkies. Cage is staring down the barrel of the aforementioned high-caliber weapon at Travolta, who is giving his adorable young boy face-waterfalls on a carousel. In between straw-sips of some mysterious beverage (probably an Orangina, because Nic Cage), the mustachioed baddie fires off a shot that manages to pass through Travolta's back and into the head of his son, flinging father and child off the not-so-merry-go-round. Cage is shocked—so shocked that he lets Travolta live—

while Travolta is in a state of total agony, staring up at the sky and cursing Xenu.

Two minutes later—that is, at the film's four-minute mark—we've jumped six years ahead to the present-day. Cage, now clean-shaven and dressed as a priest, is stashing a dirty bomb at a convention center in Downtown L.A. After completing his task, he approaches a teenage church choir, dancing like a maniac. His eyes meet those of a fetching, probably-underage blonde girl who, against all rhyme or reason, appears to be into whatever Father Cage is selling. He sidles up to the girl, moans, licks her ear, and gropes her butt, before unleashing the craziest damn O-face you've ever seen.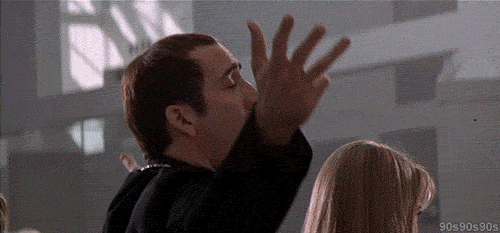 But wait, there's more. In the very next scene, we are informed that Cage is boarding a private jet about to take off at LAX, and before you can say despite all my rage I am still just a Nicolas Cage, Travolta's FBI agent is on said airstrip in a Humvee playing chicken with the plane. But let's back up about a minute or so, because prior to the truck-plane standoff, Cage, decked out in a red silk shirt with twin gold pistols, is being serviced by a stewardess onboard the jet. The stewardess, who is dressed like a librarian (turtleneck sweater, beige suit), apparently cannot resist La Cage's killer pickup line: "If I were to let you suck my tongue, would you be grateful?"
Or can she! We soon learn that the stewardess is actually an undercover FBI agent, making her the most conservatively-dressed honeytrap in the history of honeytraps.
Air Cage is downed by Travolta, and an operatic airplane hangar shootout ensues, replete with slow-mo, twin-gun dives and Mexican standoffs galore. Some random FBI guy's ear is shot off, and Nic Cage and his Igor-like brother are captured by Travolta and his G-Men. BOOM. The movie's over, and we're only 12 minutes and change in.
Just kidding. You see, Castor Troy (Cage) and his gimpy brother Pollux (Alessandro Nivola), still have that big ol' bomb hidden somewhere in Los Angeles, and FBI Superagent Sean Archer (Travolta) and his crew—including Margaret Cho (!)—need to track it down. So, they hatch a plan: using an experimental new procedure, they'll remove Castor's face, who is in a coma, and place it on Archer—while also adjusting his body, hairline, voice, you name it—thereby transforming Archer into Castor. Then Archer (as Castor) will probe Pollux, who is being housed in a futuristic sea-prison, and discover the location of the bomb.
Unfortunately for Archer (and the inimitable CCH Pounder, RIP), Castor wakes up from his coma, and strong-arms the surgeon into performing the same surgery on him, thereby transforming him into Archer. And there you have it: Archer (as Castor) must negotiate the criminal underworld of the man who murdered his son on a goddamn carousel, and Castor must do the same, playing house with Archer's wife, Dr. Eve Archer (Joan Allen), and his emo daughter Jamie, played by Dominique Swain, all while posing as a man of the law. But really, what transpires is a tremendously entertaining game of one-upmanship between Cage and Travolta, two wildly flamboyant performers—and all-around weirdos—who've never found a character ceiling they weren't game to shatter.
"I love Face/Off," Travolta once told me. "And it's true. Nic is very playful, and I'm very playful, so all I have to do is get someone who wants to play, and all he has to do is get someone who wants to play, and he finally found his match. We'd go, 'Oh, if you do that then I'm going to do this,' and kept raising the stakes. It was a great time."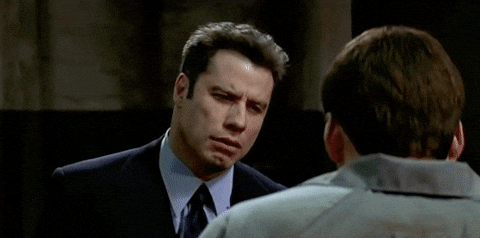 Did I mention this is a John Woo film? That means extravagant action set piece after extravagant action set piece (on planes, in a dove-filled church, riding boats), a heartstring-tugging orchestral score fit for a sweeping romance, hilariously on-the-nose imagery (mirrors galore!), and behavior that flouts convention. This isn't a philosophical treatise on Descartes' duality of man; this is an everything and the kitchen sink action flick that will rock your world.
There are so many scenes—and characters—that defy traditional movie logic in Face/Off. The science behind it (or lack thereof) is absolutely bonkers; Castor Troy's official job title in the film is "terrorist-for-hire" (so, a freelancer?); there is a remote sea prison named Erewohn (an anagram for "nowhere") where everyone wears magnetic boots, which were borrowed from the Super Mario Bros. movie (really); Gina Gershon and Nick Cassavetes play a brother-and-sister pair who like to kiss each other on the mouth; Nic Cage screams "DIE!" every time he lands someone in a death grip; and Joan Allen is the movie's choice babe, who repeatedly finds herself on the end of Castor-as-Archer's ogling. The only thing that truly makes sense in this movie is Danny Masterson as the rapey boyfriend with a red Corvette.
But the truth is, we wouldn't have it any other way.
http://www.thedailybeast.com/faceoff-at-20-all-hail-the-most-gleefully-batshit-action-movie-ever

Tom Cruise close to 1,400 days since he last saw Suri Cruise
Will Tom Cruise ever be a part of his daughter Suri's or is she now better off without him?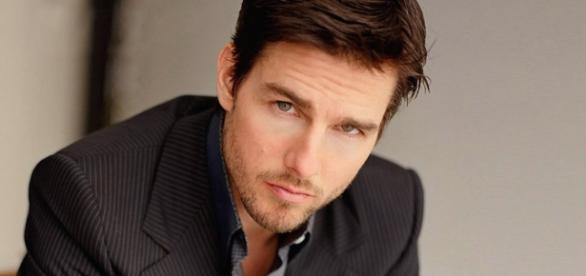 #Tom Cruise appears to have zero interest in being a father to his 11-year-old daughter Suri Cruise. Currently, it has been close to 1,400 daysand counting since Tom last saw his daughter according to In Touch reports.
Tom Cruise nearing 4-years since he last saw Suri.
Nearing four years since Tom Cruise has made any effort to visit with his only child with ex-wife "Dawson's Creek" star Katie Holmes, fans continue to wonder just what Tom's issue is with Suri? Many fans over the years have voiced their opinions of Tom Cruise's neglect of Suri. Now that Suri is 11-years-old and entering the tween years, Tom may soon be out of luck hoping ever to form a relationship with Suri after letting so much time pass between them.
Is there more to Tom Cruise's excuses than being revealed?
It s no secret that Tom Cruise and Katie Holmes divorce was a nasty one. Katie is said to have blindsided Tom with the divorce, not only hurting him but, publicly humiliating him. Katie has been upfront when discussing her reasons for deciding to end her marriage to the "Risky Business" star, revealing that she could not handle Tom's strong Scientology beliefsforcefully shoved at her and Suri.
This still does not quite explain why it is that Tom Cruise has stayed estranged from Suri all of these years. It has been made clear that Tom and Katie have no contact with each other, and any business or discussion concerning Suri will take place strictly through an assigned third party. Over the years Tom has been confronted by the media, asking questions about Suri and why he has not a part of her life.
Cruise has always managed to sway the conversations in another direction and add that his grueling and demanding filming schedule is responsible.
In the past, according to In Touch, sources close to Tom Cruise have revealed to them that he had stayed away from Suri because of Katie and planned on attempting to rekindle their relationship once Suri was in college and away from Katie's influence.
However, by then it may turn out to be a wasted effort should Tom approach Suri about a relationship. It is, at least, another seven years until college for Suri and adding in the four previous years; the then adult Suri Cruise may have formed her own opinion of her celebrity absentee father. As far as Suri missing out on male role models in life, it has been rumored for some time now that #Katie Holmes has been involved in a romantic relationship with actor Jamie Foxx, though both parties have continued to deny the rumors.
What are your thoughts on Tom Cruise's non-existent relationship with Suri Cruise? Is it too late now?
http://us.blastingnews.com/showbiz-tv/2017/06/tom-cruise-close-to-1400-days-since-he-last-saw-suri-cruise-001809603.html
"I only used to read Smash Hits and Private Eye. That's all you need, isn't it?" – Chris Lowe
Free newsletter every Thursday subscribe
Email stories to us

[email protected]


* Picking up where Ed Miliband left off
* ITV's new bomb-heavy schedule
* Artists for Grenfell still No.1
>> Oasish <<
Classical studies
As part of their Glastonbury coverage, NME wrote a review of Liam Gallagher's new material.The first edition of the review featured the sentence: "Gallagher and band followed Wall of Glass with fellow new songs Greedy Soul, Bold and the searing, Oasis-esque Do You Know What I Mean?"

That would be the same Oasis-esque song that was a number one hit for the Oasis-esque band Oasis in 1997, and the lead single off their record-breaking (and rather Oasis-esque) album, Be Here Now, would it?
Katy Perry had Sunday lunch in the Culpeper in Whitechapel this weekend. Judging from the leftovers, someone in her entourage really hates baby tomatoes.
>> Second bite <<
Legendary behaviour
Last week we told you about a runner who got thumped by a famous A-list actor (ironically, famous for playing hard bastards) when they were trying to adjust his lapel mic.

We made a little error in our report. It wasn't a runner. It was in fact a skilled technician – a sound assistant.

Also, we're told this same sound assistant had a second run-in with the actor. A much weirder one, in which the actor didn't punch him, but bit him. On the head.

Someone ought to put a muzzle on him. (There's one in an old props department somewhere that will fit him.)
Ready to feel old? Between them, the three boys from Hanson now have 12 children of their own.
>> Big Questions <<
Who's asking what this week?
Which currently-in-the-news celebrity once managed to gamble 300K on his phone betting app in less than one hour?
POPBITCH SUMMER QUIZ! Come and enjoy Independence Day with a special American menu and drinks. US-themed quiz rounds plus the usual trivia, music and filthy arts and crafts. 7.30pm at Smiths of Smithfield, next Tuesday, 4th July.
£5pp, max team size of six. Tickets: [Popbitch Popquiz]
>> Cunning Stunt <<
James is fortune's fool
There's an old joke we had cause to remember during the ongoing Petra Ecclestone/James Stunt divorce circus: "How do you make a small fortune? Start with a large one, then open a winery."Stunt knows this only too well. When the famous teetotaler got into the wine biz he decided that he should buy up a bottle of each Petrus vintage, then sell the full set on for a fortune to the Chinese market.

A pretty shrewd investment. Or at least it would have been had he not completed the set just as the Chinese authorities ordered a huge clampdown on bribery and corporate gifts, sending the prices tumbling.

Leaving Stunt looking at an eye-watering loss.
Nominative Determinism Of The Week: Editor of Stock & Land magazine… Tyson Cattle!
>> IED-TV <<
Boom and bust
ITV held its annual producers' forum this week. The director of programme strategy, Rosemary Newell, said she wanted to refresh the channel's line up and would be up for any amount of disruptive stunts, big events and experimentation.Or, as she chose to describe it (without much thought to current events), she would "throw a bomb at the schedule".
Queen and Adam Lambert will be releasing the first-ever virtual reality live concert 'experience'. Which they're calling… VR The Champions.
>> Canned laughter <<
The camera never lies
Talking of throwing a bomb at their schedule, it looks like ITV's flagship catastrophe The Nightly Show is slated to return to the channel later this year – much against everyone's better judgement.Even Bradley Walsh, ITV's safest pair of hands, struggled with it. He performed one monologue that was so bad during the recording, the decision was made to cut it from the final broadcast. When Walsh found out his jokes had been canned he hit the roof.

To mollify him, producers blamed it on a faulty camera, saying they had no secondary footage to cut to during the jokes and so had no choice but to bin the entire monologue.

The camera was fine though. They just didn't want to air it.

FYI: Whispers suggest that the show won't have week-by-week hosts when it returns. Sounds like they're settling on Dermot O'Leary.
Want to lose weight without willpower? Popbitch readers have been loving Slimpod… "From the first listen things changed. My attitude to what I'm eating – and how much – have been turned upside down… I'm thrilled." Promo code POPBITCH – 20% off any programme:
http://www.thinkingslimmer.com
>> Toilet talk <<
Yet more celebrity bumf
Listening to Iain Duncan Smith cough his way through the Jeremy Vine show this week made us realise how much we missed Ed Miliband and his toilet talk, so we're going to get the ballcock rolling again.This week: Joan Collins

The toilet in her flat in Belgravia, we're told, is "quite grand, formal, lots of heavy dark wood and a marble floor". But most interesting was the stuff on the walls. Where the rest of her flat is filled with photographs of her posing with various megastars, the walls of her bathroom are given over to countless original cartoons of Joan from newspapers – all joking about what a big slut she is…

Got a tale from a celebrity toilet? [email protected]
Big Brother is getting creamed in the ratings at the minute. Not only is it being beaten by Love Island, it's being beaten by the Love Island spin-off discussion show, Love Island: Aftersun.
>> Ginger whinger <<
Not so great to be back
If Geri ever dreamed of guest-presenting The One Show, sad to say that those hopes might now have been dashed. It seems that her performance this week will have her unofficially blackballed from the show for the foreseeable future.The Ginger One was apparently extremely demanding all day, descending upon the show with an entourage that made P Diddy look like Billy No Mates. Not only did she request multiple touch-ups throughout the show's "extremely long" VTs, she also got into a bit of a tete-a-tete with the show's prompt person when Geri failed to recognise her own lyrics in rehearsal.

Let's hope the publicity does her some good at least as her single, Angels In Chains, failed to crack the Top 100 last week.

(We're still glad to have you back though, Geri.)
The Chainsmokers have now spent 60 consecutive weeks in the top 10 of the US singles chart.
>> Selling out <<
Celebrity auctioneering
Looks like times are tough all over. Even the big stars of yesteryear are now selling off their possessions to make ends meet.Charlie Sheen is auctioning off loads of his baseball memorabilia – including Babe Ruth's 1927 World Series Ring and the contract of sale for Babe Ruth from the Red Sox to the Yankees (thought to be one of the most important contracts in sporting history):
http://lelands.com/bids/And he's not the only one. Lloyd Cole is selling off his golf clubs on eBay too…
http://www.ebay.com/itm/-/292165421367
No fewer than eight of Trump's golf clubs feature a framed copy of Time magazine with Donald on the cover. It's fake.
>> Spurned <<
The heat is on
Tottenham Hotspur players arrive back for training on Monday, ready for their new season at Wembley.

Behind the scenes huge amounts of work have been done on the new White Hart Lane ground, but there's already some fear it won't be ready in time for the 2018 season.

Spurs execs have already brought this up with Premier League bosses. If it's not up and running by next August (and it's looking tight) then the league can schedule the club to play away games only. To a maximum of 7 games.

Beyond that? Who knows…
This week's Media Masters podcast features Laura Desmond, media entrepreneur, board member of Adobe Systems and former CEO of Starcom Mediavest.
[Listen here at Media Focus]
Thanks to: pauline, J, posh_duckhunter, C, yama, NT, JS, A, JG, monstris, AA, SA, bucked_off, drunken_boht, technician_in_the_know, stinky
Old Jokes Home:
I started a boat business in the attic.
The sails are going through the roof.Still Bored?
AI inspirational quotes:
http://inspirobot.me/